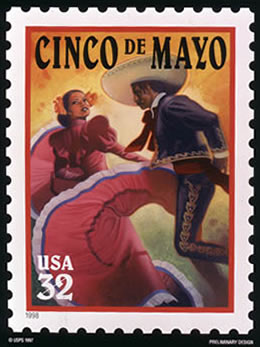 CINCO DE MAYO

GOOD FRIDAY
CHRIST IS CRUCIFIED
And there followed him a great company of people, and of women, which also bewailed and lamented him.
But Jesus turning unto them said, Daughters of Jerusalem, weep not for me, but weep for yourselves, and for your children.
For, behold, the days are coming, in the which they shall say, Blessed are the barren, and the wombs that never bare, and the paps which never gave suck.
Then shall they begin to say to the mountains, Fall on us; and to the hills, Cover us.
For if they do these things in a green tree, what shall be done in the dry?
And there were also two other, malefactors, led with him to be put to death.
And when they were come to the place, which is called Calvary, there they crucified him, and the malefactors, one on the right hand, and the other on the left.
Then said Jesus, Father, forgive them; for they know not what they do. And they parted his raiment, and cast lots.
And the people stood beholding.
TRUTH AND RECONCILIATION
Sign Sen. Patrick Leahy's
petition
urging Congress to consider establishing a truth and reconciliation commission to investigate the Bush-Cheney Administration's abuses.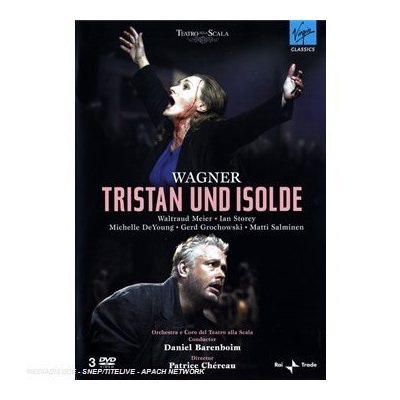 ETERNAL LOVE, ART AND GENIUS
Wagner: "Tristan und Isolde."
Waltraud Meier, Isolde; Ian Storey, Tristan;
Matti Salminen, King Marke; Gerd Grochowski, Kurwenal;
La Scala Orchestra and Chorus; Daniel Barenboim, conductor
(Virgin/EMI DVD)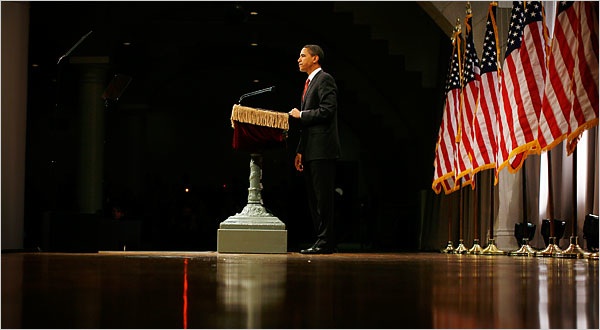 WELCOME PRESIDENT OBAMA!
Be a good man
And we will be
A good people.
DECLARATION OF INDEPENDENCE
From Steven Sebring:
In honor of the upcoming election we invite you to check out this indictment clip from the film
Patti Smith: Dream of Life
and we would like to remind you [as if you need any help] to get out and vote...
We are proud to announce that the film has just won the award for best documentary at the Durban International Film Festival in South Africa. The film has had a warm response and is receiving such thoughtful and poetic reviews. It is currently opening in regional theaters across the country. You may find a list of actual dates and theaters on the
dreamoflifethemovie web site
. We try to do our best updating it as often as possible...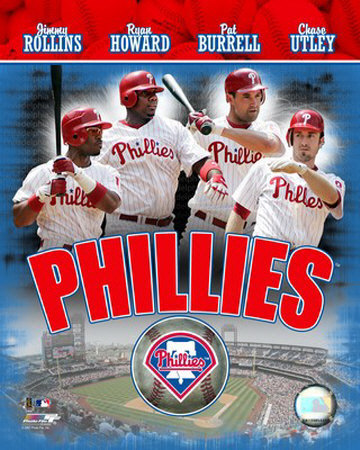 CONGRATULATIONS PHILADELPHIA, CITY OF BROTHERLY LOVE
Toddy's team won!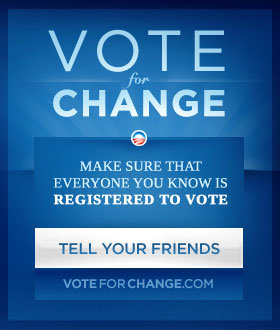 CONGRATULATIONSTO SAMUEL KAMAU WANSIRU OF KENYA
Kenya's Samuel Kamau Wansiru crosses the finish line during men's marathon final at the National Stadium, also known as the Bird's Nest, during Beijing 2008 Olympic Games in Beijing, China, on August. 24, 2008. Samuel Kamau Wansiru won the title and the gold and the laurels befitting a long distance runner.
 :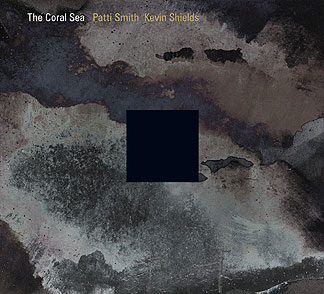 'THE CORAL SEA' NOW AVAILABLE
Patti Smith and My Bloody Valentine's Kevin Shields are set to release a double-disc set of their live performance of The Coral Sea on July 7, 2008 on their own PASK imprint. The Coral Sea is Patti Smith's homage to her friend and photographer Robert Mapplethorpe and the title of her 1996 book. Kevin Shields accompanies her on guitars and effects and creates a haunting backdrop to the spoken prose. The recordings were made June 22nd, 2005 and September 12th, 2006 at sold-out performances at the QEH in London. The set will run almost two hours with a different stylistic approach to each performance. The UK's Guardian upon reviewing the 2005 performance gave it 5 stars and called it 'magical.'
Purchase "The Coral Sea" from Rocket Girl.
Read Patti Smith's interview in
The New York Times
of July 13.
Jon Pareles in
The New York Times
:
The punk poet meets My Bloody Valentine's guitar-sonorities obsessive: not to rock but to read "The Coral Sea," Patti Smith's memorial to the photographer Robert Mapplethorpe, which mingles her thoughts about him with hallucinatory vignettes of a sea voyage.
The two CDs of "The Coral Sea" (PASK) include two complete hourlong performances, recorded live in 2005 and 2006. Ms. Smith makes her reading an incantation that sometimes shades into melody, delineating geographies and desires as anything but a detached observer. Mr. Shields surrounds her with billowing tremolo chords, edgeless sustained notes, rippling drones and stormy buildups. The 2005 performance works its way through discrete sections, effect by effect. A year later Mr. Shields turned "The Coral Sea" into an evolving, reverberating, nearly unbroken wash of sound, as boundless and mutable as the ocean itself.
Pop Matters
's Spencer Tricker calls
The Coral Sea
"certainly beautiful...a magnificent tribute and a monumental accomplishment in the career of one of America's truly outstanding artists".
Read the entire review
.
A wonderful review in the
Village Voice
, by Don Allred:
From the ambered memory and legacy of the artist-collector Robert Mapplethorpe (1946-1989), his friend and colleague Patti Smith has drawn "the passenger M," whose name appears thus in her 1996 prose poem The Coral Sea, now a performance piece done in collaboration with My Bloody Valentine guitar hero Kevin Shields. M's abbreviation mark washes away as he (dreams that he) sets sail to find the Southern Cross--or at least glimpses "wet crepe, a beloved port, or a loved one fading, a tiny dot dissolving, in the vast grainy sea." But he's on his own way now (this isn't a Mapplethorpe biography), and even if he's glimpsed death, his sudden "weightless" relief isn't about casting off earthly snares and cares; instead, it's filled with "the earth-rageous scent of his own volition: The air is sweet..."
Smith says "earth-rageous" in the second of two presentations, from 2005 and 2006, which comprise this double-disc set. Like all of her wordplay--as written, sometimes spontaneously spoken, and occasionally sung--it fits: The original M claimed that he never wanted his work to be outrageous. Even the photographer's Portfolio X, an eerie slow train of S&M-mad hopefuls, is fueled by the extended draining of pain (and shock, revulsion--all bad blood) from its sculpted wake. With the same intimate conviction, Smith rides and guides the diverging momentum of these two unstoppable shows, one 64 minutes long, the other 55. As M's visions and decisions ("He would dine on desire . . . ") keep zigzagging and spiraling through the last of his refiner's fire and oxygen, the tides of his veins, so Smith and M attune and recalibrate each other via the non-twangy raised and extended twang bar of Kevin Shields's otherwise-unaccompanied guitar (to say nothing of the metamorphic petals of his pedals). Shields's celestial navigation is as far as can be imagined from his recurring role as blowtorch-breathed gator in MBV; though a beast is waiting in and for M, so is something gorgeous.
SPIN
's Barry Walters gave "The Coral Sea" a four-star review:
When she's singing, pioneering mystic punk Patti Smith can be extraordinarily mortal. But in recitation, she approaches the godly, delivering her poetry's surreal grace with sheer force. Here, she's captured twice in concert feverishly reading her phantasmagoric memorial to friend and artist Robert Mapplethorpe with the accompaniment of fellow savant Kevin Shields, the reclusive My Bloody Valentine leader who matches the ebb and flow of her morphing prose with thunderstorms of guitar sustain that weep and roar empathetically.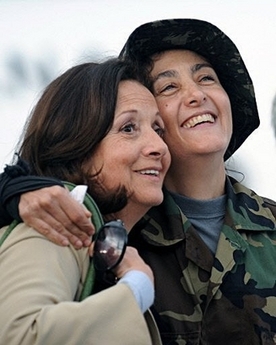 INGRID BETANCOURT
we share great joy for the release of ingrid betancourt and her fellow hostages and send them our love and prayers. it is beautiful to be free.
PATTI SMITH'S "AUGURIES OF INNOCENCE" ISSUED IN PAPERBACK
Patti Smith's most recent book of poetry,
Auguries of Innocence
, has been issued in an expanded, paperback edition by Ecco Press.
Read David Ulin's
review
in the Los Angeles Times.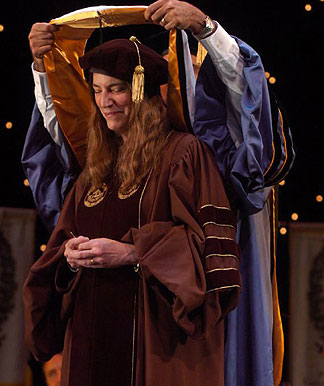 PATTI SMITH, DOCTOR OF LETTERS
Patti Smith was honored by Rowan University in Glassboro, New Jersey, which granted her an honorary Doctor of Letters degree on May 16, 2008, in recognition of her success in the fields of music, literature and art.
Read about the event on Rowan University's
site
and in the
Press of Atlantic City
.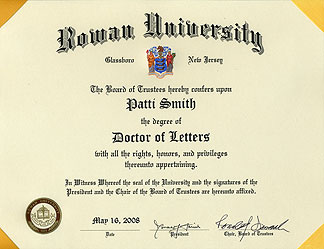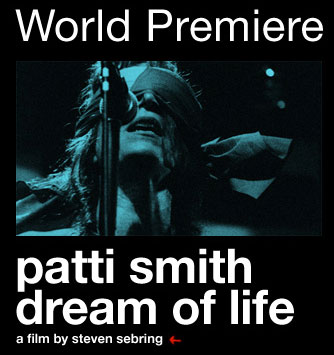 PATTI SMITH: DREAM OF LIFE TO PLAY AT NYC'S FILM FORUM
Steven Sebring's film "Patti Smith: Dream of LIfe", recently featured at the Philadelphia and Sundance Film Festivals, will premiere in New York City at the
Film Forum
. It is scheduled to run from August 6 to August 19.
Learn more about the film at its
official site
.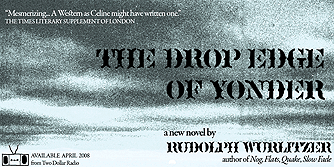 THE DROP EDGE OF YONDER:2008
Rudolph Wurlitzer's new novel,
The Drop Edge of Yonder
, has been published by Two Dollar Radio.
FONDATION CARTIER SHOW
The Fondation Cartier is hosting a major solo exhibition of the visual work of American artist and performer Patti Smith. Drawn from pieces created between 1967 and 2007, it strives to provide an insight into her lyrical, spiritual and poetic universe. Her expressive voice serves to magnify the installations created specifically for the exhibition: a synthesis of photographs, drawings and films.
Patti Smith began to take photographs in 1967 for use in collages. In 1995, she returned to photography using a vintage Polaroid Land 250: "The immediacy of the process was a relief from the long involved process of drawing, recording, or writing a poem." Many of Smith's photographs embody significant personal meaning: Robert Mapplethorpe's slippers, Virginia Woolf's bed, Hermann Hesse's typewriter and Arthur Rimbaud's utensils. Others serve as a visual record of her well-traveled life. The exhibition also features a selection of the artist's drawings, several of which are borrowed from prestigious institutions such as the MoMA and the Centre Pompidou or from private collections.
The powerful yet subtle drawings have been executed with a calligraphic sense of line entwined with poetry and text. They represent her solitary side. Her collaborative side is represented in films directed by Robert Frank, Robert Mapplethorpe and Jem Cohen and the audio performance of The Coral Sea with Kevin Shields. She will shoot a short film, specially commissioned for the exhibition. The exhibit also includes cherished belongings taken from her personal archives. Among them original manuscripts, a photograph taken by Constantin Brancusi and a stone from the river in which Virginia Woolf committed suicide.
Inspirations
The source of much of her inspiration has been key figures of French culture, including Arthur Rimbaud, Nicole Stéphane, Jean Genet, Antonin Artaud and René Daumal. Paris echoes throughout, from drawings executed in the Montparnasse district, where she lived during her first Parisian sojourn in 1969, to recent photographs taken in the garden of the Fondation Cartier, situated nearby.
A Comprehensive Project
To reflect the multitude of fields explored by Patti Smith, the exhibition is intended to be a comprehensive project that expands beyond the exhibition space. The Fondation Cartier is giving free rein to Patti Smith to oversee the programming for the Nomadic Nights as well as performing herself, offering solo and band performances as well as informal poetry readings. The Fondation Cartier's bookshop will, for a time, become the artist's personal library. Her choice of books, CDs, films and objects will enable visitors to further penetrate the rich universe of this iconic artist.
March 28 > June 22, 2008
Fondation Cartier web site
R.E.M. Tour Blog
visits the show.
OBAMA ASSESSES RACE IN AMERICA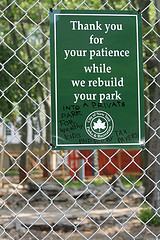 WHAT IS HAPPENING TO OUR PARK?
What is
happening
to OUR Washington Square Park?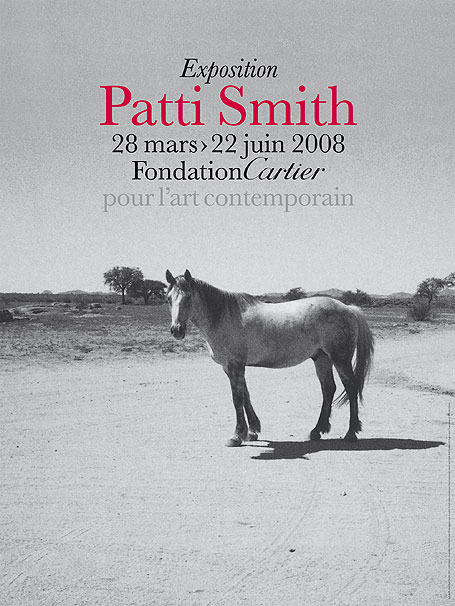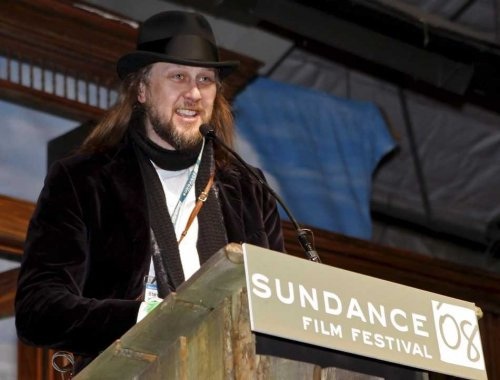 CONGRATULATIONS, STEVEN SEBRING
Cinematographer Steven Sebring receives the Excellence in Cinematographer Award: Documentary for the film 'Patti Smith: Dream of Life' at the 2008 Sundance Film Festival awards night in Park City.
ARE OUR VOTING MACHINES SECURE?
The cover story in the New York Times Magazine on Sunday, January 6, made plain the threat: The winner of the 2008 presidential election could be decided by flawed, insecure, and hackable electronic voting machines. Congress is poised to consider a new emergency paper ballots bill next week -- but we'll have to convince them to act right away. I signed a petition urging local, state, and federal officials to require paper ballots for our votes. Can you join me at
this link
, please?
iTUNES ORIGINALS NOW AVAILABLE
Patti Smith's
"iTunes Originals,"
a full-length set of new performances, classic tracks and revelatory interviews debuts exclusively on iTunes on Tuesday, January 8. Structured around new interviews and performances recorded at New York's Electric Lady Studios in the spring of 2007, the 90 minute "iTunes Originals" premieres new studio recordings of Smith's "pissing in the river," "ghost dance," and "peaceable kingdom" as well as exclusive new versions of the Allman Brothers' "Midnight Rider," the Doors' "Soul Kitchen," and Nirvana's "Smells Like Teen Spirit," featuring guest artist Steve Earle.
The "iTunes Originals" collection also includes the original 1978 studio recording of "because the night"; the 1996 digital remaster of "frederick"; Patti's meditation on Kurt Cobain "about a boy"; "beneath the southern cross" featuring the late Jeff Buckley and John Cale; "one voice" (from 2000's gung ho); "my blakean year" (from her Columbia Records debut album, 2004's trampin'); and a mind-bending performance of her signature opus "gloria: in excelsis deo," recorded live at the Royal Festival Hall in London on June 25, 2005 in celebration of the 30th anniversary of the release of horses, Patti Smith's debut album.
Purchase
"iTunes Originals"
at the iTunes Music Store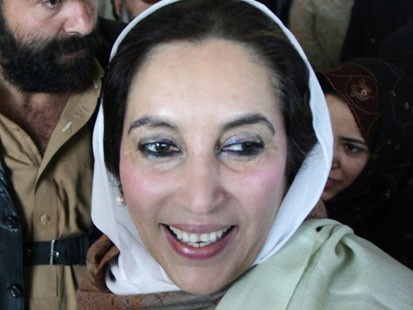 BENAZIR BHUTTO: Assassinated December 27, 2007
"You can imprison a man, but not an idea.
You can exile a man, but not an idea.
You can kill a man, but not an idea."
Daughter of Destiny
Two months ago, Benazir Bhutto returned to her homeland of Pakistan after eight years of exile. Now she is gone, along with the hopes that her presence might have represented a renewed unity amongst her people and government. Being a nuclear country, and its proximity to Afghanistan, alliance with a stable Pakistan is crucial to the Western World. Bhutto was prepared to take the risk to heal the divide, knowing the dangers and risks. She described herself as an "optimist in nature who put [her] faith in Pakistan and God in the effort to ward off extremists." She learned from her father that people had to stand up for what they believed in. She knew that the current government did not want a woman in a position of leadership. Her murder this morning was not unexpected, though as it unfolded and her valiance was silenced, her voice will continue in the hearts and minds of many.
Benazir Bhutto first came to my attention in 1988 when she became the Prime Minister of Pakistan. At age 35, she was the first democratically elected woman leader in the Islamic world. Well educated and the essence of style, her physical demeanor, eloquent command of the language, and compelling message inspired me from the first time I saw her. Here was a woman of exceptional courage and conviction, who saw the execution of her father, the murder of her two brothers, the imprisonment of her husband, as well as her own persecution and did not hasten to heed the call of her people. She was a devotee of her faith, family, and country. As an Islamic world leader, she was hailed as one with great power. Now we are denied the fruits of her return into the world community.
Hail, Benazir Bhutto.
-- Andi Ostrowe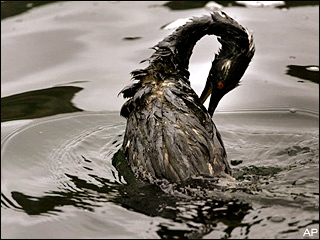 HUMAN ERROR: SAN FRANCISCO BAY
PATTI SMITH HOSTS BOB DYLAN PODCAST
Patti Smith hosts music and conversation about Bob Dylan. His friends, early influences and collaborators discuss their close relationships with Dylan, the stories behind his greatest songs and other memorable moments of his career. Journalists and biographers add critical insights and provide historical contexts. A few of today's singer-songwriters also detail how Dylan's art influenced their own lives and careers. We also hear comments from Dylan, himself, from interviews recorded throughout the last 45 years.
Learn more about the
podcast
.
Subscribe on
iTunes
.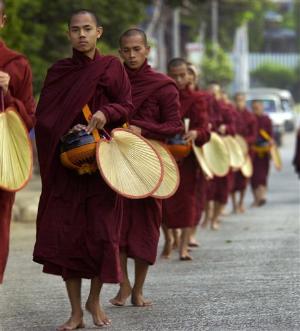 BROTHERS! WE ARE WITH YOU.
WHAT A WAR ON IRAN MIGHT LOOK LIKE
Photos of the aftermath of Israel's air strikes on Lebanon give an idea of what a war on Iran might look like.
View a
slide show
on Alternet.
PATTI SMITH PERFORMS IN THE CURRENT STUDIO
Patti Smith and Lenny Kaye performed in the Current studio at Minnesota Public Radio.

Listen to the broadcast on this page.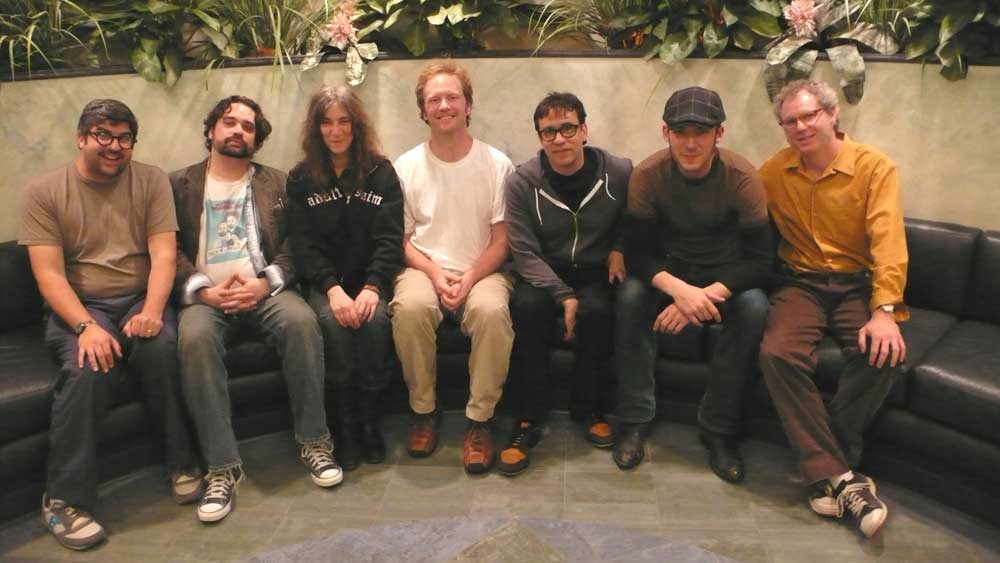 AQUA TEEN HUNGER FORCE COLON FILM
COMMENTARY CREW
class of 2007 photographed by Barre Duryea
Well my dream came true. Not only did I get to do commentary on the new Aqua Teen Hunger Force film but I got to hang out with this stellar cast of characters. From left to right (I think) is Dana (the voice of Shake), Todd from the Onion, me (I got to hang out with her as well) Dave (the creator), Fred (lincoln timeline), Jackson (introduced me to The Force), and Jay (important guy). I was heavily compensated for my work with impressive free stuff including three pairs of meatwad socks (cotton not polyester), and an Adult Swim hoodie. I'm wearing the socks as I write. Don't miss the Force late at night on the Cartoon Network and certainly don't miss the thrilling breakthrough film.

What did it break through, you may ask.
To the Other Side of course....

trailer
WITHOUT CHAINS
This song was written in early September 2006 in response to the release of Murat Kurnaz from the U.S. military prison at Guantanamo Bay Naval Base after being detained for over four years. We are posting the song because of numerous requests. At this point the song may serve to raise questions as to the status of the Guantanamo detainees. This is a heart breaking legal and moral issue. We can not forget these human beings.
Nor can we forget John Walker Lindh who has also served over four years of a twenty year sentence imposed without any hard evidence against him. Recently he was transferred from a medium-security prison in California to Supermax, the Federal Government's most secure prison. No explanation has been given.
Our prayers are with him and others who have been imprisoned unjustly.
We offer the song, as requested. Just a rough version. written with Tony Shanahan.
Without Chains Download
You may wish to review:
Welcome Back Murat Kurnaz
Free John Walker
Without Chains
by Patti Smith
copyright 2007
For four long years
I wasn't a man
dreaming chained
with the lights on
in another world
a netherworld
four long years
with nothing
to say
thoughts impure
at Guantanamo Bay
now I'm learning
to walk
without chains
I'm learning
to walk
without chains
learning to walk
without chains
without chains
without chains
born in bremen
played guitar
a young apprentice
building ships
loved and married
heard the call
is attaining wisdom
a pursuit of fools
journeyed to Pakistan
to breathe the Koran
taken in custody
no reason why
then a prison camp
as an enemy
Combatant
(Chorus)
Languished in a cell
Four years and a day
Then flown home
A version of free
Chained to the floor
With eyes bound
One last humiliation
left to endure
they say I walk
strange
that may be so
its been a long time
since I walked at all
now I'm learning
to walk
without chains
to talk
without chains
to breathe
without chains
to love etc...
without chains
without chains
without chains
FIVE YEARS AGO
No words can express the sorrow and frustration at marking this terrible anniversary. The loss of human life, destruction of Iraq and global instability. The abandonment of New Orleans is a microcosm of Baghdad. They are irrevocably joined. Our lack of attention, manpower and resources at home spiraled this public tragedy. All our resources, surplus, global goodwill squandered and spent. We are finding ourselves emotionally and physically bankrupt, just as Iraq. The Bush Administration falsely told the American people that the leadership of Iraq placed us in jeopardy. In the end, it has been the Bush Administration, burgeoned by cooperative media, that has led us so deeply astray.
The lack of moral leadership in the Democratic party has also contributed to the present state of things. On the eve of the vote that gave Bush almost unanimous power to strike Iraq Senator Robert Byrd begged the Senate to reconsider. The Democrats, led by Joseph Lieberman, buckled under peer pressure and voted in favor of empowering Bush. Lieberman has shown himself to be pro-self and pro-war. It is impossible to conceive why the Democrats gave into him and snubbed Senator Byrd. On the eve of the strike against Iraq Byrd gave an impassioned speech laying out in very clear terms why the impending strike was wrong. It still brings tears to my eyes. We offer, in sad remembrance, Byrd's speech below.
Thomas Paine said "We have it in our power to begin our world over again." We have to believe that but we also must take responsibility for the ruin committed in our name.
Speech delivered on the floor of the US Senate
by US Senator Robert Byrd
March 19, 2003 3:45pm
I believe in this beautiful country. I have studied its roots and gloried in the wisdom of its magnificent Constitution. I have marveled at the wisdom of its founders and framers. Generation after generation of Americans has understood the lofty ideals that underlie our great Republic. I have been inspired by the story of their sacrifice and their strength.
But, today I weep for my country. I have watched the events of recent months with a heavy, heavy heart. No more is the image of America one of strong, yet benevolent peacekeeper. The image of America has changed. Around the globe, our friends mistrust us, our word is disputed, our intentions are questioned.
Instead of reasoning with those with whom we disagree, we demand obedience or threaten recrimination. Instead of isolating Saddam Hussein, we seem to have isolated ourselves. We proclaim a new doctrine of preemption which is understood by few and feared by many. We say that the United States has the right to turn its firepower on any corner of the globe which might be suspect in the war on terrorism. We assert that right without the sanction of any international body. As a result, the world has become a much more dangerous place.
We flaunt our superpower status with arrogance. We treat UN Security Council members like ingrates who offend our princely dignity by lifting their heads from the carpet. Valuable alliances are split.
After war has ended, the United States will have to rebuild much more than the country of Iraq. We will have to rebuild America's image around the globe.
The case this Administration tries to make to justify its fixation with war is tainted by charges of falsified documents and circumstantial evidence. We cannot convince the world of the necessity of this war for one simple reason. This is a war of choice.
There is no credible information to connect Saddam Hussein to 9/11. The twin towers fell because a world-wide terrorist group, Al Qaeda, with cells in over 60 nations, struck at our wealth and our influence by turning our own planes into missiles, one of which would likely have slammed into the dome of this beautiful Capitol except for the brave sacrifice of the passengers on board.
The brutality seen on September 11th and in other terrorist attacks we have witnessed around the globe are the violent and desperate efforts by extremists to stop the daily encroachment of western values upon their cultures. That is what we fight. It is a force not confined to borders. It is a shadowy entity with many faces, many names, and many addresses.
But, this Administration has directed all of the anger, fear, and grief which emerged from the ashes of the twin towers and the twisted metal of the Pentagon towards a tangible villain, one we can see and hate and attack. And villain he is. But, he is the wrong villain. And this is the wrong war. If we attack Saddam Hussein, we will probably drive him from power. But, the zeal of our friends to assist our global war on terrorism may have already taken flight.
The general unease surrounding this war is not just due to "orange alert." There is a pervasive sense of rush and risk and too many questions unanswered. How long will we be in Iraq? What will be the cost? What is the ultimate mission? How great is the danger at home?
A pall has fallen over the Senate Chamber. We avoid our solemn duty to debate the one topic on the minds of all Americans, even while scores of thousands of our sons and daughters faithfully do their duty in Iraq.
What is happening to this country? When did we become a nation which ignores and berates our friends? When did we decide to risk undermining international order by adopting a radical and doctrinaire approach to using our awesome military might? How can we abandon diplomatic efforts when the turmoil in the world cries out for diplomacy?
Why can this President not seem to see that America's true power lies not in its will to intimidate, but in its ability to inspire?
War appears inevitable. But, I continue to hope that the cloud will lift. Perhaps Saddam will yet turn tail and run. Perhaps reason will somehow still prevail. I along with millions of Americans will pray for the safety of our troops, for the innocent civilians in Iraq, and for the security of our homeland. May God continue to bless the United States of America in the troubled days ahead, and may we somehow recapture the vision which for the present eludes us.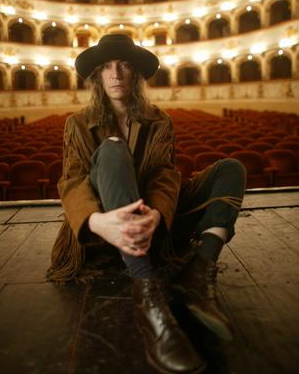 AIN'T IT STRANGE
from
The New York Times
, March 12, 2007
On a cold morning in 1955, walking to Sunday school, I was drawn to the voice of Little Richard wailing "Tutti Frutti" from the interior of a local boy's makeshift clubhouse. So powerful was the connection that I let go of my mother's hand.
Rock 'n' roll. It drew me from my path to a sea of possibilities. It sheltered and shattered me, from the end of childhood through a painful adolescence. I had my first altercation with my father when the Rolling Stones made their debut on "The Ed Sullivan Show." Rock 'n' roll was mine to defend. It strengthened my hand and gave me a sense of tribe as I boarded a bus from South Jersey to freedom in 1967.
Rock 'n' roll, at that time, was a fusion of intimacies. Repression bloomed into rapture like raging weeds shooting through cracks in the cement. Our music provided a sense of communal activism. Our artists provoked our ascension into awareness as we ran amok in a frenzied state of grace.
My late husband, Fred Sonic Smith, then of Detroit's MC5, was a part of the brotherhood instrumental in forging a revolution: seeking to save the world with love and the electric guitar. He created aural autonomy yet did not have the constitution to survive all the complexities of existence.
Before he died, in the winter of 1994, he counseled me to continue working. He believed that one day I would be recognized for my efforts and though I protested, he quietly asked me to accept what was bestowed -- gracefully -- in his name.
Today I will join R.E.M., the Ronettes, Van Halen and Grandmaster Flash and the Furious Five to be inducted into the Rock and Roll Hall of Fame. On the eve of this event I asked myself many questions. Should an artist working within the revolutionary landscape of rock accept laurels from an institution? Should laurels be offered? Am I a worthy recipient?
I have wrestled with these questions and my conscience leads me back to Fred and those like him -- the maverick souls who may never be afforded such honors. Thus in his name I will accept with gratitude. Fred Sonic Smith was of the people, and I am none but him: one who has loved rock 'n' roll and crawled from the ranks to the stage, to salute history and plant seeds for the erratic magic landscape of the new guard.
Because its members will be the guardians of our cultural voice. The Internet is their CBGB. Their territory is global. They will dictate how they want to create and disseminate their work. They will, in time, make breathless changes in our political process. They have the technology to unite and create a new party, to be vigilant in their choice of candidates, unfettered by corporate pressure. Their potential power to form and reform is unprecedented.
Human history abounds with idealistic movements that rise, then fall in disarray. The children of light. The journey to the East. The summer of love. The season of grunge. But just as we seem to repeat our follies, we also abide.
Rock 'n' roll drew me from my mother's hand and led me to experience. In the end it was my neighbors who put everything in perspective. An approving nod from the old Italian woman who sells me pasta. A high five from the postman. An embrace from the notary and his wife. And a shout from the sanitation man driving down my street: "Hey, Patti, Hall of Fame.
One for us."
I just smiled, and I noticed I was proud. One for the neighborhood. My parents. My band. One for Fred. And anybody else who wants to come along.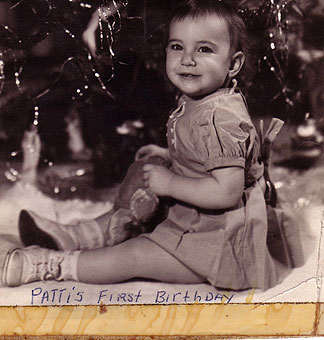 BLUE TANGO SHOES
for Patti on her 60th birthday
by Janet Hamill
From New York to London and back again
the courses of our cryptic mythology
soar in mid flight, converge, and go their separate ways
in a bookstore window in Buenos Aires
you saw sparkling blue tango shoes
and thought of the mariner off shore in the distance
adrift from the gold and silver canvas of your world
that fits so perfectly - a shirt of star field cloth
Always there's a porcelain angel
in the pitch and roll of my study
the blue tango shoes take their place
among the saints and rosaries
brought back from your Pythagorean travels
notebooks like this new one from the Argentine
a box of twenty-five eggs of semi-precious stone
and the last armless soldier from a box of one hundred
we bought on Second Avenue
Miniature blue tango shoes
blue roses and feathers on the toes, blue ankle straps
from Borges' city, which you didn't care for much
"Too much like a Portuguese city," you said
yet prowled the streets none the less
looking for treasures to stock the hold of my heart
and in return this poem -
a vial of pale green seawater
to wear around your neck
(c) Janet Hamill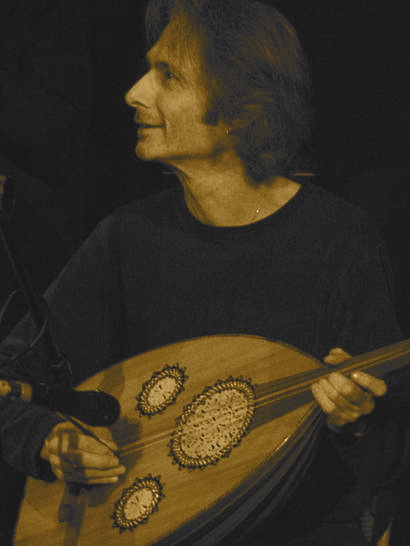 LENNY KAYE
Musician, writer, father, friend
Born in New York City
December 27, 1946
Sixty Years Young Today
Happy Birthday, Lenny
Thanks for Everything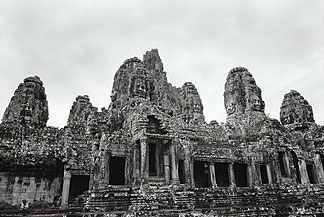 THIRD EYE VISUALS POSTERS
Dear Family, Friends and Freaks;
The Third Eye Visuals poster line is now a reality! The first four images are all from my trip to Cambodia in October 1995. These black and white photo-posters are printed on sturdy high quality paper at 24"x36". I will be selling posters this weekend saturday and sunday from 10am to 7pm at the Bleecker street Market next to Our Lady Of Pompeii Church on Bleecker between Carmine and Leroy. Its just west of sixth avenue and 2 blocks south of the west 4th street subway station. It'd be nice to see some friendly faces at the market!
Peace to All
Dan Lilienfeld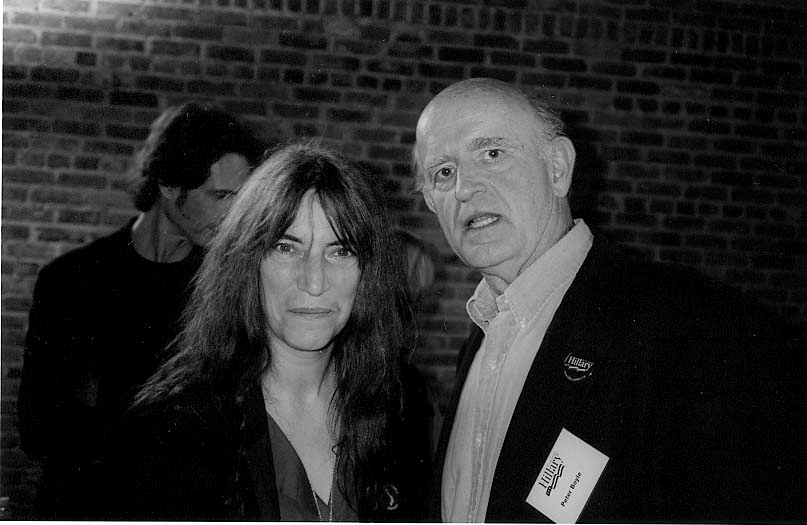 SO LONG, PETER BOYLE
October 18, 1933 - December 12, 2006
Pete Boyle is one of those people you always selfishly count on to be there to make you laugh and smile. I can't believe he's gone, but he and his classic voice will certainly never be forgotten. He was a good father and frankenstein.
jesse smith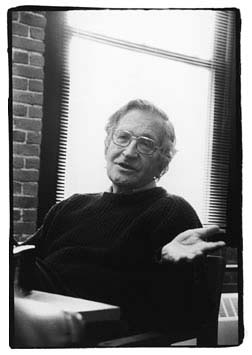 WE SALUTE NOAM CHOMSKY
friend of the people
born December 7, 1928
"Resistance is feasible even for those who are not heroes by nature, and it is an obligation, I believe, for those who fear the consequences and detest the reality of the attempt to impose American hegemony."
http://www.chomsky.info/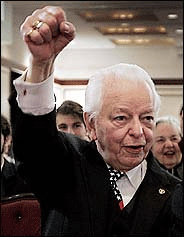 BIRTHDAY GREETINGS AND GRATITUDE
TO SENATOR ROBERT BYRD
"The loss of freedom will not come as a thunderclap. Rather, if it goes, it will slip silently away from us, little by little, like so many grains of sand sliding softly through an hour glass. The curbing of speech in the Senate on judicial nominations will most certainly evolve to an eventual elimination of the right of extended debate. And that will spur intimidation and the steady withering of dissent. An eagerness to win -- win elections, win every judicial nomination, overpower enemies, real or imagined, with brute force -- holds the poison seeds of destruction of free speech and decimation of minority rights. The ultimate perpetrator of tyranny in this world is the urge by the powerful to prevail at any cost. A free forum where the minority can rise to loudly call a halt to the ambitions of an over zealous majority must be maintained. We must never surrender that forum, the United States Senate,
to the tyranny of any majority."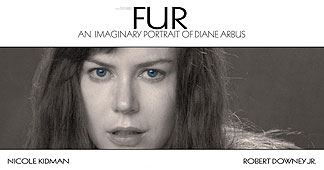 FUR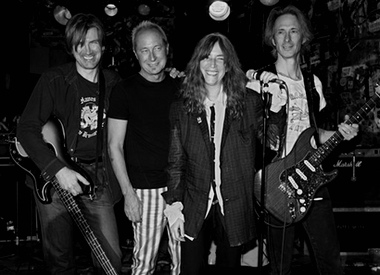 CBGB October 15, 2006
Mission accomplished
what remains is future....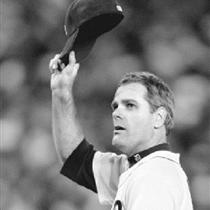 CONGRATULATIONS, DETROIT!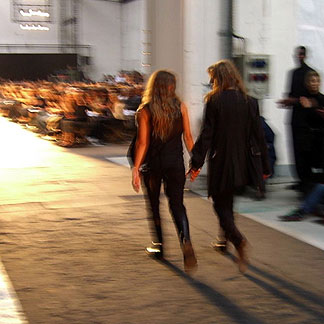 A SALUTE TO ANN DEMEULEMEESTER
Ten Years of friendship
Twenty Years of beautiful work
Twenty Years dreaming of cloth
Paris. October 3, 2006
PLEASE CONSIDER THIS
Dear Friend,
Last month a federal judge ruled that the Administration's warrantless domestic eavesdropping program was unconstitutional. The court acted to safeguard our Constitutionally-protected liberties and to restore our government's separation of powers. I commend the court's decision.
Today, Republicans are considering legislation to retroactively authorize the Administration's lawbreaking. As the Washington Post wrote yesterday, Republican leaders have planned to produce legislation by month's end that would give the administration as much latitude as possible to continue the program. [WP, 9/6/2006]
But before this Congress is rushed into voting on a proposal that would set aside its Constitutional responsibility to provide a check and balance on Presidential power we must first know more about this secretive assault on our liberties.
Congress should not give rubber-stamp approval to this spying program before we know how it may have reached into the lives of innocent Americans -- Americans like you and me.
That is why in February I introduced
legislation
to establish an independent, nonpartisan commission to investigate the secret spying on law-abiding American citizens.
You agreed and endorsed my proposal by signing the
petition
to investigate the secret spying. The American people need to know if the Foreign Intelligence Surveillance Act or any other U.S. law has been broken, and whether the constitutional rights of the American people have been violated.
That's why I am asking you to
tell a friend
that the Administration's secret spying must be investigated and to urge them to
sign the petition
. Republicans in Washington must know that the people care about liberty and the Constitution.
To tell your friends, visit:
www.byrd2006.com/action/tellafriend.cfm
Thousands of you already have let your voices be heard. But we need thousands more to send a loud message that the Constitution still matters, and its checks and balances are essential to our Republic.
Thank you for your support for checks and balances -- and for our Constitution.
Sincerely,
Robert C. Byrd
United States Senator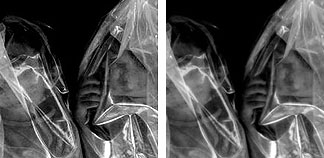 QANA
Patti Smith has recorded a new song: "Qana":
[band version]
[solo version]
There's no one
in the village
not a human
nor a stone
there's no one
in the village
children are gone
and a mother rocks
herself to sleep
let it come down
let her weep
the dead lay in strange shapes
Some stay buried
others crawl free
baby didn't make it
screaming debris
and a mother rocks
herself to sleep
let it come down
let her weep
the dead lay in strange shapes
Limp little dolls
caked in mud
small, small hands
found in the road
their talking about
war aims
what a phrase
bombs that fall
American made
the new Middle East
the Rice woman squeaks
the dead lay in strange shapes
little bodies
little bodies
tied head and feet
wrapped in plastic
laid out in the street
the new Middle East
the Rice woman squeaks
the dead lay in strange shapes
Water to wine
wine to blood
ahh Qana
the miracle
is love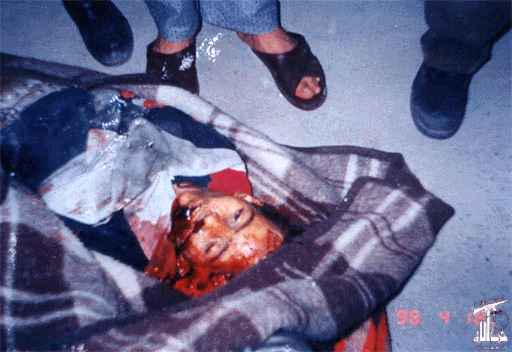 QANA
The Israeli practice of collective punishment is a war crime under the Geneva Convention. Why are they allowed to do this? Because they have our permission?
We send over four billion dollars in aid and weapons to Israel every year. We are paying for this devastation. The slaughter of children. The country in ruins.We are paying for this. George Bush willfully rejected a truce and now we have the Qana massacre on our head. Thirty seven of the dead were children.
Qana is considered by some as the location of the first miracle of Christ. Turning water into wine. There is no wine flowing in Qana today. Only blood. Only blood.
SMELL A RAT
President Bush said Monday the monthlong war between Israel and Hezbollah was part of a broader struggle between freedom and terror and "we can only imagine how much more dangerous this conflict would be if Iran had the nuclear weapon it seeks." Bush said Iran and Syria were the primary sponsors of Hezbollah guerrillas who captured two Israeli soldiers, igniting the battle with Israel. More than 900 people were killed in the fighting, and there was massive destruction in southern Lebanon. Bush said the "responsibility for this suffering lies with Hezbollah."
TRANSLATION. The Bush administrations' wet dream of invading Iran as a trickle down aspect of the Lebanon invasion didn't pan out.
These are dirty times. Time to clean our inner houses. Time to wake up. Not the time to cultivate fear. Cultivate awareness. Ask the Lebanese, burying their dead, clearing the debris of their life, who is responsible. It is Israel and the United States. The most hated countries in the world. Are we not our country? Will we stand for this?
This was not a conflict. Iraq was not a war. They were invasions. Premeditated and driven by selfish agendas. Ask the mother who pulled her dead little girl from the ruins of Qana if she feels safer. Chances are she no longer cares who has the fucking bomb. Nothing can make the world safe for her daughter.
After September 11th the rats from downtown migrated to our village street. And every one had a face like the Masters of War who call themselves our protectors. Would that the Pied Piper could return with his magic flute and drive them all from the White House to the most polluted section of the sea.
LETTER FROM RALPH NADER
TO PRESIDENT GEORGE W. BUSH
July 17, 2006
Dear President Bush:
You have been a weak president, despite your strutting and barking, when it comes to doing the right things for the American people within the Constitution and its rule of law. This trait is now in bold relief over the Israeli government's escalating war crimes pulverizing the defenseless people and country of Lebanon.
With systematic efficiency, the Israeli government has already destroyed innocent homes and basic public facilities--ports, airports, highways, bridges, power stations--which are critical to delivery of food, medicines, health care, ambulances, water and other essentials for a civilian population. This bombardment, by U.S. made bombers, military vehicles, ships and missiles with American taxpayer subsidies, places an inescapable responsibility upon your shoulders which does not mix with your usual vacuous messianic rigidity.
As the leading player in official Washington's puppet show, it is time for you to assert the interests of the American people and those of the broad Israeli and Palestinian peace movements, by standing up to the puppeteers. For without this conflict, Hezbollah would not be in today's news.
The time has come for you to return to Texas for a private meeting with your father, his former national security advisor, Brent Scowcroft and his former Secretary of State, James Baker. You need to say to them 'I can't trust my advisors anymore; there have been so many tragic blunders. What do you advise me to do about the destruction of a friendly nation by the world's fifth most powerful military?'
Here is what I think they should say to you:
1. Take personal command of an immediate rescue effort for the tens of thousands of Americans trapped in Lebanon by Israel's calculated blocking of air, land and sea escape routes. You've said the safety of Americans is your top priority. Prove it by using the U.S. Air Force and the U.S. Navy facilities to immediately evacuate all our people desperate to escape the terrorization of Lebanon.
2. You have been so docile and permissive to Israeli demands that any modest deviation from this posture will make your next move credible. Announce that you are sending two prominent negotiators--perhaps James Baker (Republican) and former Senate Majority Leader George Mitchell (Democrat) to Israel and Lebanon to arrange for a cease fire between the combatants.
Announced at a televised White House news conference with your two envoys, you can punctuate your seriousness by raising the questions of violations of the Arms Export Control Act and the Foreign Assistance Act. Using U.S. supplied weapon systems to commit civilian atrocities on homes and fleeing vehicles with children and to inflict collective punishment on mass civilian populations are not using these weapons for legitimate self-defense and internal policing, as our federal law requires. Israeli planes have even fire-bombed wheat silos and gasoline stations in Lebanon. More mayhem is on the way.
3. Stop acting like an impulsive, out-of-control West Texas Sheriff and start reading, thinking and listening for a change. When Israel, Britain and France violated international treaties against aggression in 1956, and invaded the Suez Canal, President Dwight Eisenhower used his influence to make them withdraw from Egypt.
In 1982, following a year without any PLO skirmishes over the Lebanese-Israeli border, Israeli armed forces invaded Lebanon anyway. They created a path of destruction all the way to Beirut and militarily occupied south Lebanon for 18 years before they withdrew, except for retaining Shebaa Farms. In 1982, the New York Times reported "indiscriminate bombing" of Beirut by Israeli planes. At least 20,000 Lebanese civilians lost their lives in that invasion and many more were injured. From that conflict Hezbollah was born, composed of many people whose relatives were casualties in that illegal invasion.
History, George, does not start two weeks or two months ago. You must read about past U.S. Presidents who, at least, sent high-level emissaries to quell similar border fighting. It worked and prisoners were often exchanged.
You are doing and saying nothing about what the rest of the world believes is a hugely disproportionate attack against innocent adults and children in violation of the Geneva Conventions, the UN Charter and other treaties and federal statutes. You've sworn to uphold these laws. Do so. Because of the Israeli government's overwhelming military power, the imbalance of terror against civilians and their property has always been to its advantage. As has its occupation of Palestine and confiscation of land and water sources.
4. You can't take sides and be an honest broker. Just about all our knowledgeable retired military, diplomatic and intelligence officials believe resolving the Israeli-Palestinian conflict is the key to deflating other agitations in the region. Freedom and justice for the Palestinian state and security and stability for the Israeli state must both be achieved.
You have turned your back on the courageous and prominent Israeli peace movement which normally reflects the positions of half of the Israeli population. You've never met with any of its leaders - even those in the Knesset or former officials in the military, intelligence and Justice Ministries. Hundreds of reserve combat officers and soldiers of the IDF have refused, in their words, "to fight beyond the 1967 borders to dominate, expel, starve and humiliate an entire population." They pledged only to fight for Israel's legitimate defense. (www.seruv.org.il/defaulteng.asp)
5. Once in a while, ask your aides for a sample of Israeli opinion that rejects the notion that there can be a military solution to this conflict, despite the military imbalance. For example, reports and editorials in Haaretz, arguably the most respected newspaper in Israel, would educate your judgment. In a recent editorial, Haaretz argued that the present Israeli government has "lost its reason" through the brutal incarceration, devastation and deprivation of innocent people in Gaza.
In another Haaretz commentary dated July 16th, Gideon Levy writes:
In Gaza, a soldier is abducted from the army of a state that frequently abducts civilians from their homes and locks them up for years without a trial - but only we're allowed to do that. And only we're allowed to bomb civilian population centers.
6. One final bit of advice could come from Papa Bush's circle. If the Israeli army decides to invade Lebanon with troops, your support of the aggression can possibly unleash a domino of warring actions and reactions over there. As is it, Americans are increasingly fed up with the Iraq quagmire.
Moreover, we know they don't like many of your domestic policies favoring the wealthy, the post-Katrina debacle, exporting jobs, and among our conservative base, your enormous deficits. So our Republican Party's control of government is at stake in November. Don't you have your hands full with Iraq whose invasion we all urged you to avoid in 2003?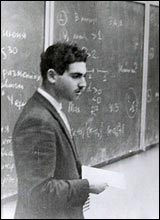 GRISHA
"Lone and discarded one! divorced by fate
From thy wished for fellows-whither art flown?
Where lingerest thou in thy bereaved estate,
Like some lost star or buried meteor stone?"

—J.J. Sylvester
Grigori "Grisha" Perelman
, who turned 40 on June 13, is a great mathematician who has made important contributions to Riemannian geometry. He humbly produced papers on the internet offering a solution to the century old
Poincare Conjecture.
There is an intense flurry of mental activity surrounding his solution that offers us all a thrilling respite from the the exploits of greed, wiretapping, sexual perversity and human slaughter which is the usual fare we ingest like slabs of doctored spam. This is a pure story and though one may know little of mathematics, Poincare himself said "A scientist worthy of the name, above all a mathematician, experiences in his work the same impression as an artist; his pleasure is as great
and of the same nature."
Grisha presented his illumination and disappeared in the woods. His fellow mathematicians call out to him. It seems he has been located. Living, it is reported,
as a shattered recluse, with his mother.
We are in desperate need of the true Artist in any field. Of hope, magic and spiritual ascent. Perhaps Grisha will emerge and accept the extended hands of his fellow explorers and
shed his light upon us all.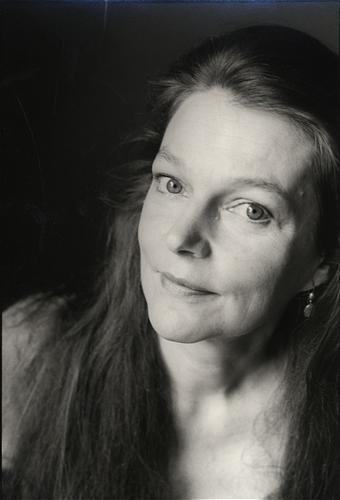 LORRAINE HUNT LIEBERSON
March 1, 1954 — July 3, 2006
A courageous, transcendent spirit and voice.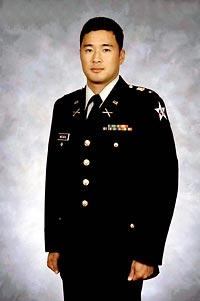 THANK YOU, LIEUTENANT
Ehren Watada, a First Lieutenant in the Army, stationed in Fort Lewis, Washington, has become the first commissioned officer to refuse deployment in Iraq. He faces a court-martial and imprisonment. "I refuse to be party to an illegal and immoral war against people who did nothing to deserve our aggression," he says. "My participation would make me a party to war crimes."
A true patriot questions his government and his conscience. We support Ehren Watada who has shown much courage in his meditations and his actions.
A
website
has been set up where you can sign a statement of support for Watada.
STATE OF THE UNION
A recording from Patti Smith's New Year's Eve concert:
Declaration of Independence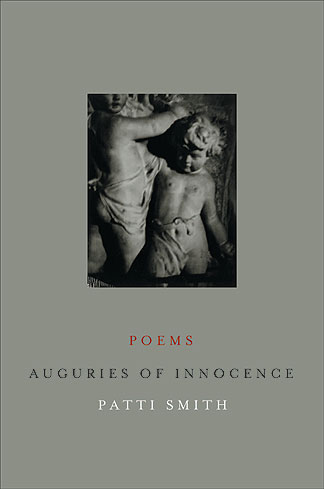 AUGURIES OF INNOCENCE
Patti Smith's
AUGURIES OF INNOCENCE: Poems
has been published by Ecco.
Autographed copies are currently available at St. Marks Bookshop in New York City. Visit the store at 31 Third Avenue (at 9th Street) or order by phone at 212-260-7853.