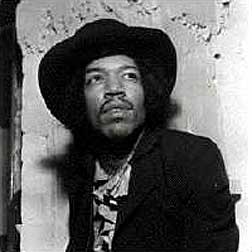 James Marshall Hendrix
"Jimi"

November 27, 1942 - September 18, 1970

"Hurray I wake from yesterday"

He fell out of the sky from a silk parachute,
colors of no war, armed with a guitar as
lethal as we need. William Blake said
"Give me my arrows of desire" and Jimi
shot them in every direction.

The day came when he did not awake.
Yet he seems as present as ever.
Today is his birthday and happily we can
experience him through his body of work.
It's too bad he can't be with us today.
But his revolutionary carriage awaits.
I'm sorry he is gone. Guess I will slide in.
I'm going to Electric Ladyland.

I'll be back tomorrow.